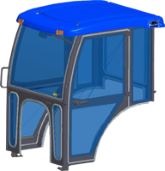 Tractor Cabs
and Cab Enclosures by Sims Cab Depot. Sims Cab Depot designs and manufactures tractor cabs, cab enclosures, operator enclosures, sunshades, and accessories for compact tractors, lawn and garden tractors, machinery, and heavy equipment for most major tractor brands. We also manufacture
custom cabs
for the OEM (original equipment manufacturer) market.
You can purchase tractor cabs, cab enclosures, or sun shades for your tractor directly from Sims Cab Depot or from one of our more than 2,000 dealers North American wide.
Sims Cab Depot offers a variety of cab enclosure types to suit your specific needs for agricultural, utility, construction, or off-road vehicles with all-steel enclosures, door assemblies, side panels, enclosure kits, skidsteer enclosures, sun shades, windshield assemblies, soft-sided enclosures, and hard-sided enclosures.
We employ the latest manufacturing technologies to provide customers the highest quality products at the most competitive prices and stand behind the products with a full 1-year warranty.